The Joan + Joe Way
Discover the art of crafting your ideal coffee drink, tailored to your unique preferences. Our team is dedicated to serving you the perfect cup every time, no matter how challenging your request may be. With our expertise and commitment to excellence, we guarantee a coffee experience like no other.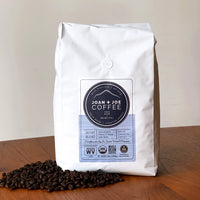 Coffee Beans
All Organic Beans
All Organic, Non-GMO, Kosher, and Energy-Conscious Production. True, Good, and Brewtiful.
Shop Beans
Cold Brew for Home
Refillable Growlers
Opt for our sustainable glass growlers, which offer an eco-friendly solution. These versatile containers can be refilled, making them a great choice for environmentally conscious individuals. Whether you need a full gallon or a half gallon size, we have you covered. Visit our shop to conveniently grab a new refill, and trust that we prioritize sanitizing the swapped glass for your peace of mind.
Breakfast + Lunch
Treat yourself with our all-day breakfast and lunch offerings available from 7am to 5:30pm on weekdays and 8am to 4pm on Saturdays
Come in for your next favorite drink
★★★★★

I have a cup, then I fight bears!!!
★★★★★

I love the smooth, non-bitter taste and flavor of the coffee.
★★★★★

 Best coffee ever! Hot or cold.
★★★★★

Joan + Joe is the absolute best! It brings such joy to my heart when I am blessed to enjoy a cup, warm or cold! Delizioso!!